Celebrities
Live and In Person at the Halloween Show for 2018, some of your favorite Halloween and Unique Celebrities!
Come See "Nubbins" star of Texas Chainsaw Massacre 2 – Still dead and ready to travel!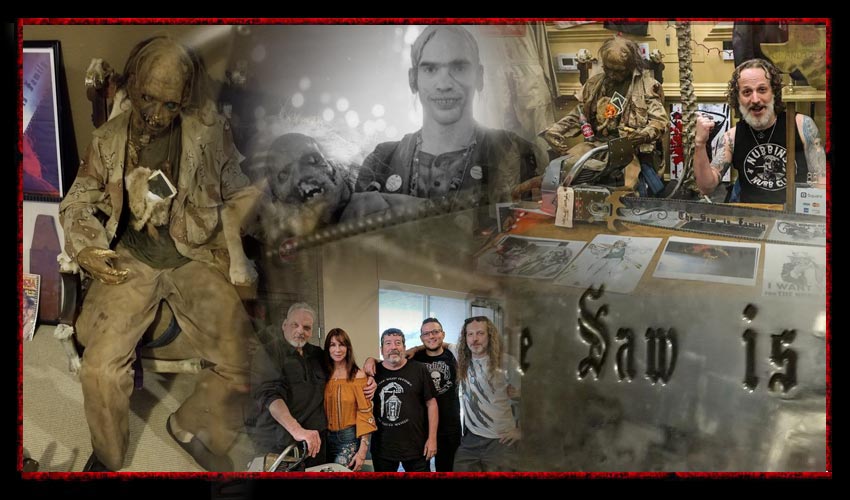 Meet Nubbins!
In over 30 years since his debut in the landmark horror movie Texas Chainsaw Massacre 2, Nubbins (ChopTop's twin brother) has remained a corpulent staple of the genre. Created by legendary special FX guru Tom Savini, Nubbins was adopted in 2014 by premiere Chainsaw franchise collector Jason Guy from Augusta, Georgia as a starring piece in his world-class collection.
So, what does the proud father (owner), of an infamous and decrepit son (prop) do? Well, what any proud dad does: show his kid off to the world!
Jason Guy and partner Tony Sammons have made it their passion to bring Nubbins to his fans around the world at conventions and events. Recently, Nubbins made international headlines when the hyper-realistic corpse prop was hustled through an Atlanta airport via wheelchair to take a ride through the TSA X-Ray machine on his way to a horror con. Radio and TV interviews on shows like Good Morning America helped bring National attention to Nubbin's resurrection!
Now Nubbins is ready to be on display as part of a collection of Texas Chainsaw Massacre Props at the Halloween Show.  He travels with lots of swag and branded merch like T-shirts, novelties and even "Saw-ce is Family" hot sauce. Nubbins always draws attention, is camera-ready and up for endless photo-ops.   Other exciting Texas Chainsaw franchise movie relics available for display include: The "Saw Is Family," Excalibur chainsaw (TCM3), Bill Moseley "Chop-Top" bust with original head plate (TCM2), Dennis Hopper "Lefty" chainsaw holster (TCM2), John Dugan "Grandpa" hammer (TCM, 3D), Marilyn Burns "Grandma Carson" Sawyer family "S" necklace and more!
Make sure you stop by and visit all the Texas Chainsaw Massacre Props in a quality museum display section.  Nubbins travels light and doesn't eat much, but as a Texas Chainsaw Massacre fan, you will eat him up like he was the Sawyer family's sinister BBQ!
Read all about Nubbins recent adventure with the TSA on Instagram.  http://www.esquire.com/news-politics/news/a44913/tsa-instagram/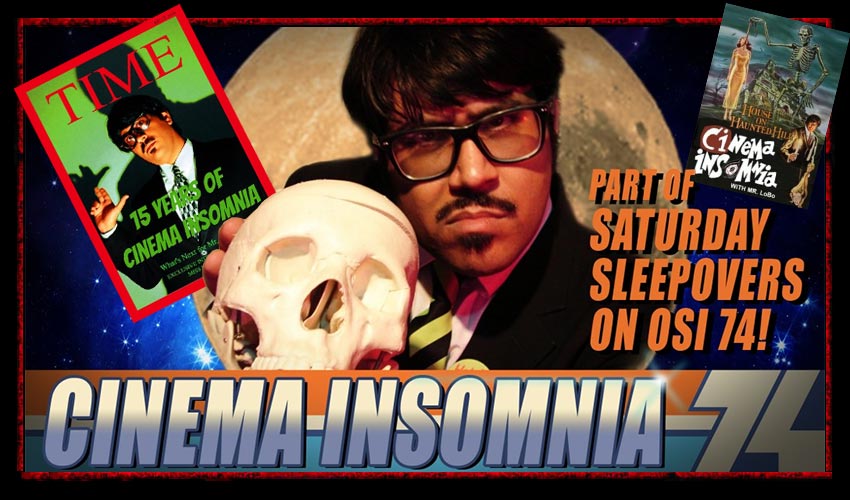 Mr. Lobo – Horror Host of the National TV Show "Cinema Insomnia"
Who is Mr. Lobo?
Shrouded in mystique, this innovative producer and host has presided over the nationally syndicated late-night TV show CINEMA INSOMNIA for over 16 years. The show has been seen in hundreds of television and cable markets. He produced a 2006 Halloween spectacular that had a footprint of 45 Million households. Dozens of episodes have been distributed on home video and can be streamed and downloaded via many services.
Fans donated over $10,000 via KICKSTARTER to help produce new Cinema Insomnia episodes for 2012-2013.
More recently, The show has found a new audience on connected television via OSI 74–and can be seen on ROKU streaming devices.
The tall dark stranger has made many appearances in independent genre films including the role of CRISWELL in the long awaited remake of PLAN 9 FROM OUTER SPACE called PLAN 9, AMERICAN SCARY,  CITIZEN WOOD, and VIRGINIA CREEPERS are among the several documentaries centered on films, sub-genres, film hosts, and television shows he's been involved with. His distinctive voice can be heard on commercials and trailers including the HARDWARE WARS 30th ANNIVERSARY marketing campaign and the GRINDHOUSE style trailers of the anthology film MIDNIGHT SHOW. He has a spoken word album available on CD and DOWNLOAD/MP3  called HORRIBLE NOISES OF MR. LOBO'S VERY BAD MANOR that was ranked by iTunes as one of the TOP 40 Halloween Recordings.
Mr. Lobo was also parodied on SCOOBY-DOO: MYSTERIES INCORPORATED, when his likeness, inspired the villain Professor Rofalo, unmasked at the end of the episode Beware The Beast From Below.
In 2009 he challenged WWE star Chris Jericho to a "thumb wrestling" match at the peak of a scandal. On TV and the internet TMZ reported and followed the scandal after an incident at the SACRAMENTO HORROR FILM FESTIVAL where the pro-wrestler hurled racial and lifestyle slurs at the event MC, Mr. Lobo.
Mr. Lobo has made hundreds of live appearances all over the country and is a special guest at WONDERCON, MONSTER BASH, and and the current MC at BLOBFEST.  "Man Of The Hour" he was roasted by a celebrity panel of TV horror hosts including broadcasting legend John Zacherle as part of the  HORRORHOUND 2011 convention in Indianapolis Indiana. A favorite guest on talk shows, he was  the special guest on COAST TO COAST AM WITH GEORGE NOORY for 2 hours for 4.5 million listeners and was invited to return to the show on OCT. 29th 2014. Known as advocate for "Bad Movies", he claims, "They're not bad movies just misunderstood".
Mr. Lobo will have his own FREE Theater on the Show Floor.  Here are the times and schedule:
Friday
Cinema Insomnia: House on Haunted Hill
Cinema Insomnia:Haunted House Special
Cinema Insomnia: Attack of the Giant Leeches(New Episode)
Sat
Cinema Insomnia: Haunted House Special
Cinema Insomnia Night of The Living Dead
Cinema Insomnia:Vampire Hunters Club
Cinema Insomnia: American Werewolf in the Phillipines(New Episode)
Sunday
Cinema Insomnia: Atomic Brain
Cinema Insomnia:Undertaker and His Pals
Cinema Insomnia: Horror Hotel
Mr. Lobo on IMDB
http://www.imdb.com/name/nm1495195/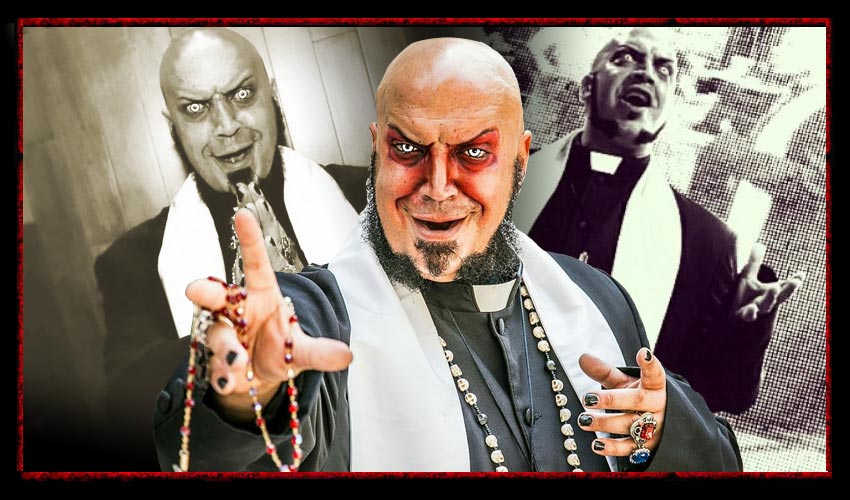 Father Evil
The story of Father Evil 
Father Evil was born Luis Evilleira in Galicia, Spain in the year 1372. His parents, Guillermo and Isabella Evilleira, were farmers and herbalists. Three months after his birth there was an epidemic that hit his small town. His parents, with their knowledge of herbal remedies, were able to stop the onset of the plague. The Holy Roman Catholic Church caught wind of this and accused his parents of heresy and Witchcraft. The locals and church representatives gathered at their farm. They proceeded to beat his parents. The ordeal ended with his parents being burned at the stake.
The infant, Luis Evilleira, was taken in by the church and raised as one of their own. Forty years later, Father Luis Evilleira has become a loyal servant of the church and the head Witchcraft investigator .One of his investigations leads him to a satanic convent that was attacked by one of the local villages. Father Evilleira investigates the convent and begins to "re purify" holy items of the church that may have been tainted. That's when he encounters the heinous book that will forever change him. Upon opening its pages he surprisingly is able to read the ancient text within. Suddenly, a blinding white flash enveloped the room and no one sees or hears of Father Evilleira again.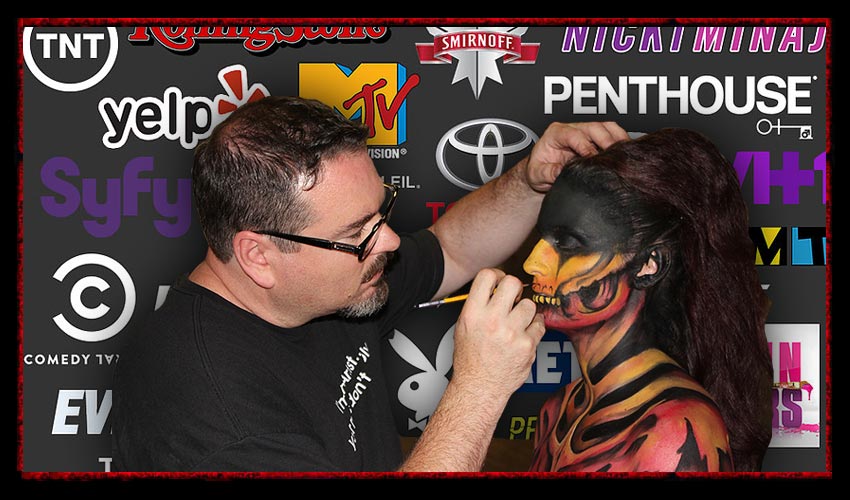 Pashur
World Wide Body Paint Artist from Skin Wars.
Owner of Canvas Alive, Pashur will be flying in the from Los Angeles & Hollywood Area.
"I'm impressed."
Charlie Sheen / Actor
Said in regards to Pashur's models painted as Greek Statues for the Roast of Charlie Sheen pre-show.
"Let's give it up for the prettiest envelopes in award show history."
Samuel Jackson / Actor
Said in regards to Pashur's models painted as Envelopes for the Spike TV Video Game Awards.
"Wow"
Patton Oswalt / Actor
Said in regards to Pashur's body painted models on Spike TV Video Game Awards.
Donna Marian 
Co-Owner of The Creeper Gallery in New Hope, PA as seen on the TV Show Storage Hunters & Ghost Adventures. Owner of DarkCreation.com featuring Macabre Art.
Donna has spent the past 25 years honing her craft in the Gothic Art genre . She has over 6000 pieces in collections worldwide. Her work has been used in the TV/Motion Picture Industry and Universal Studios Theme Parks from Zag Bagan's The Haunted Museum to a feature in Morbid Curiosities.
Her pieces have graced the cover of many magazines and publications internationally.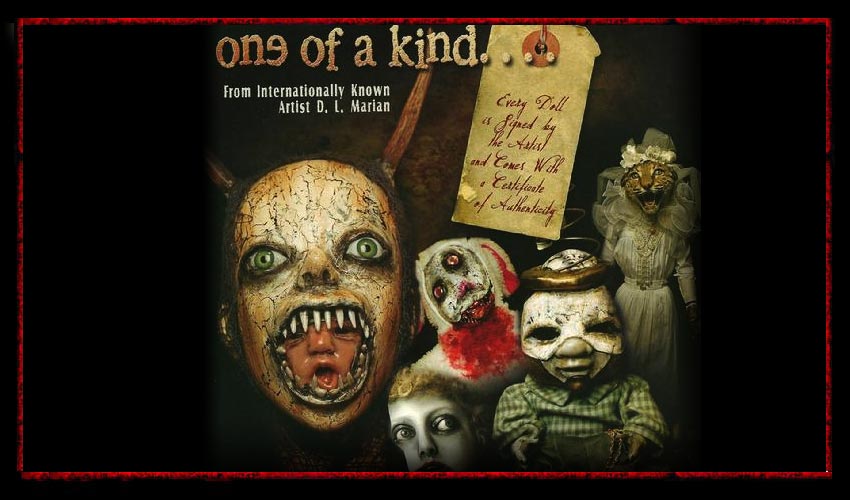 Circus Rejects!
GRiN, KARNAGE & Cheeks
Grin and Karnage met in clown college which we flunked out of after the first semester. Karnage couldn't get the juggling figured out and was caught eating the grease paint. Grin didn't want to give up the chainsaw and was expelled for chasing the dean down the hallway when he tried to take the saw away from Grin.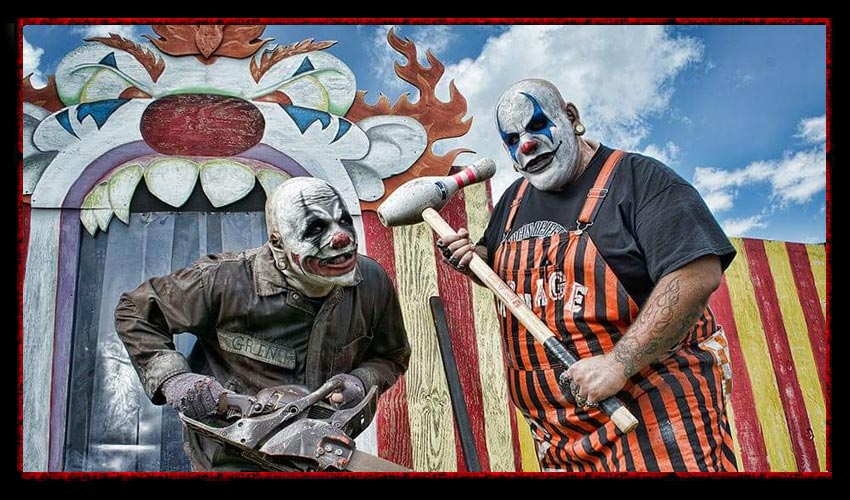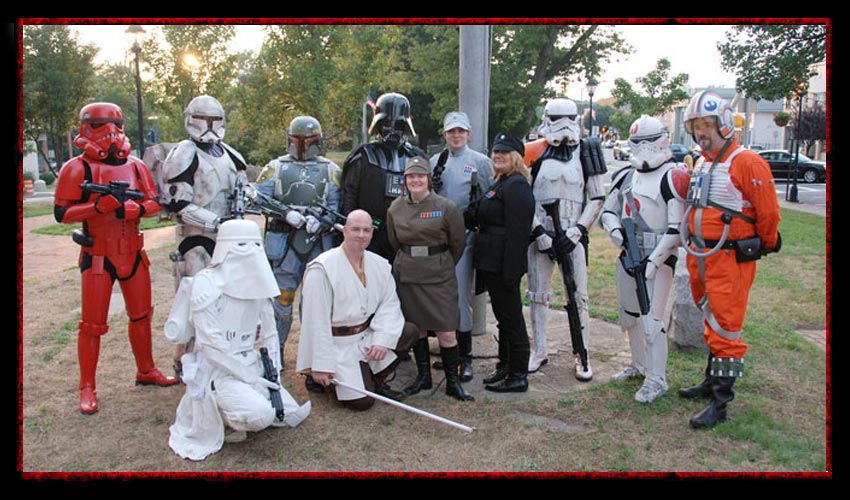 Northeast Remnant Vader's Fist 501st Legion
The National Halloween Show is proud to announce that the Northeast Remnant Vader's Fist 501st Legion will be attention the Convention.  The Northeast Remnant is a proud Garrison of the 501st Legion serving the great state of New Jersey. Our members strive to create costumes which reflect the realism of those seen in the movies of the Star Wars saga. We then take those costumes and put them to good use bringing the Star Wars universe off the big screen to help the communities we live in.  If you would like to learn more about the Legion or to join, come see them at the Halloween Show Floor!.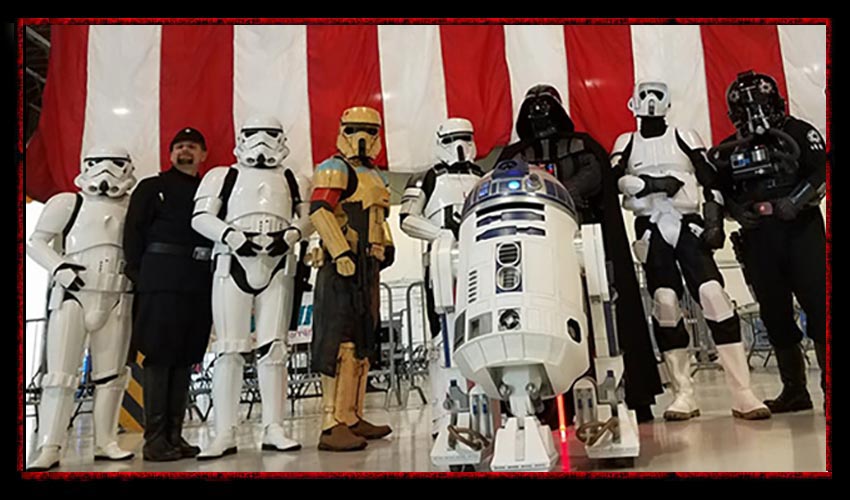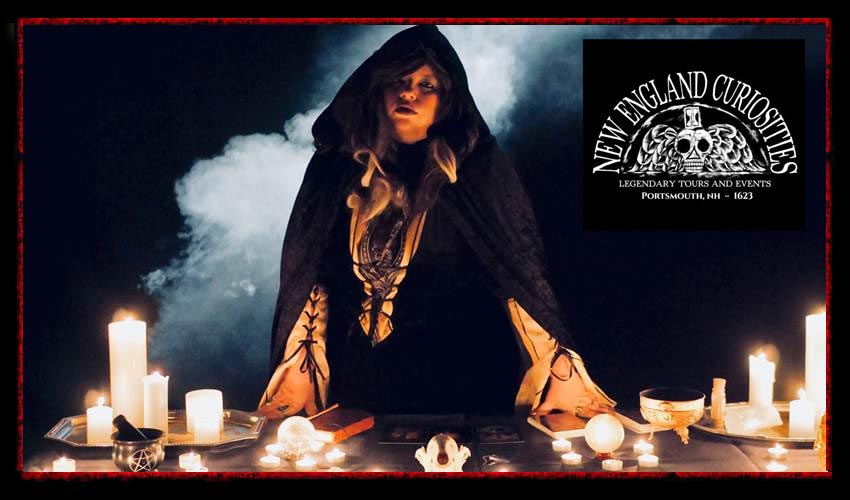 Roxie Zwicker
Known as "New England's Scary Godmother" (Boston Herald), Roxie Zwicker has been entertaining the locals, visitors from away and curious souls since with her unique ghost stories since 1994. Her company New England Curiosities, located in Portsmouth, NH has been offering tours, spooky trolley rides and special haunted events since 2002 and are consistently on top of the nation's travel and tourism lists – "New England's Top 5 Cemetery Tours" – Yankee Magazine. "One of the 3 best alternatives to visiting Salem, Massachusetts" – Boston Globe.  Featured on "Psychic History" on the Travel Channel and "Destination America" on the Travel Channel.  Roxie is the author of 7 best selling books on New England's ghost stories and folklore.  In addition to running a successful ghost tour company, Roxie travels throughout the northeast doing countless speaking engagements on haunted history as well as a consultant for haunted attractions.  Having worked with the Mount Washington Hotel, the Wentworth by the Sea Hotel, the October Moon Halloween Museum in Salem, Massachusetts and many others, Roxie is a well known expert in the field.  Visit her booth at the show, sign up for her workshops and check out some of her creepy creations and learn more about this "mystery maven."  For more information about Roxie visit www.newenglandcuriosities.com